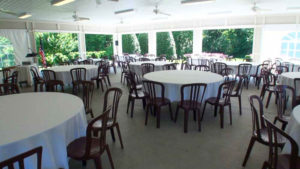 Whether you arrive here by Motor Coach, Church Van or Mom's Taxi, you will find LeConte Hotel and Convention Center, Ascend Hotel Collection, the perfect choice for your Group's stay while visiting the Great Smoky Mo untains area.  Our complimentary, Continental Breakfast will get you and your group off on the right foot each morning with freshly baked biscuits and gravy, sausage patties, waffles, and much more.
If your group would like a great meal without having to leave our hotel, we can provide a catered meal, and if you would enjoy some great local entertainment following dinner, we have the resources to plan that for you as well.
We can customize your stay to suit your group's special interests and needs.  After a great day filled with lots of activities, you can even settle down in one of our comfortable rocking chairs on the front porch.  LeConte Hotel and Convention Center, Ascend Hotel Collection, in Pigeon Forge:  Why would you go anywhere else?
For several years now, we at the LeConte Hotel and Convention Center, Ascend Hotel Collection, have had the great honor and privilege to host various groups consisting of family and military reunions. Many of these groups have come to call LeConte Hotel and Convention Center a home away from home and each year they return. We call them family and friends. It is our great desire to continue to provide this service to as many as will come to call us their little getaway spot from home. We will gladly work with you to be sure you have the best reunion possible.
Located in the center of Action-Packed Pigeon Forge, tucked away on a 25-acre farm you will find the perfect spot for your next reunion. Located only one half mile off the Parkway with Mill Creek gently flowing through the property, along with multiple hospitality areas, you are only one decision away from one of the best Reunions ever for your group. Many who visit the pristine grounds of LeConte Hotel and Convention Center and the Ogle Farm return year after year.
The LeConte Hotel and Convention Center of Pigeon Forge offers:
Convention & Group Facilities Include:
Whether it is a Classroom Set Up for 100 people or a Banquet Setting for 300, we can accommodate your next meeting venture. Our competent staff awaits the opportunity to assist you with meeting space, audio visual, catering, or even extra-curricular event planning. Our State-of-the-art Conference Center can host groups from 50 to 300 with other meeting space available as well. How about a Business Luncheon or Evening Barbecue with live, local entertainment in our Creekside Pavilion? Our Pine Room is just right for that next Board of Director's Meeting. Whatever the need or size of the group, LeConte Hotel and Convention Center and Banquet Facilities will professionally and enthusiastically take care of your group's needs.
Allow LeConte Hotel and Convention Center, Ascend Hotel Collection, in Pigeon Forge to provide you with all of the information you will need to make your stay a success.